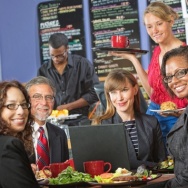 Researchers have found that people who have a social support system are more likely to stick with their new healthy behaviors. But you already knew that, didn't you? Bandura and Walters began to suspect it, too in 1963, when they were exploring what would later become known as Social Learning Theory. This journal is the motivational support key in the Information-Motivation-Behavioral Skills Model of behavior change. And that's why I am creating a support forum where members can discuss what they're learning from the blog.
This is the perfect place to exchange ideas and learn from each other. Compare notes on what works and what doesn't. Find out how others are coping with changing their life-long habits. Get tips from people who are a little further down the path from you. It's one thing to read about a new idea. It is quite another to incorporate it into your life. This support forum is the quintessential Social Learning tool for health education in the digital age.
Don't be shy. Even if you have never used a forum before, you will soon be sharing and learning like an old pro. Because this is a members only forum, you can feel safe. When you register as a member you can choose to display an anonymous name if you prefer not to disclose your identity to other members. This forum is moderated and only available to registered members. That means that everyone is here for the same reason: to live more vibrant, healthy lives!
I know you are chomping at the bit to get started, and so am I. As soon as the developers have finished creating our forum application, I will let you know. If you sign up for the newsletter you will be the first to know when you can meet the other members in the forum.