Right now I am working full time on the dissertation to complete a doctor of health education degree. I will be offering more events in the future, but for right now, I teach the following classes in the Washington, DC metropolitan area.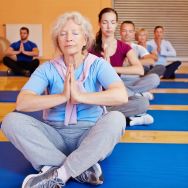 Yoga/Meditation Classes
I teach a gentle style of hatha yoga and mindfulness meditation that is suitable for adults of all ages and abilities. Most of my students have never taken a yoga or meditation class before. All of my classes are adaptive, taking into account each person's unique abilities and limitations. For those who are looking for something a little more challenging, never fear. Most asanas (poses) have a range of options to accommodate varying degrees of difficulty. After working with me for a few months, even my elderly students are able to flow through classic vinyasa series such as the Sun Salutation.
I incorporate mindfulness meditation in all of my yoga classes, as yoga and mindfulness meditation are inextricably linked. I also teach a separate meditation class immediately following the Thursday evening yoga class at the Cedar Wellness Center.
All classes require prior registration. I only travel to locations where students have indicated they will attend class. If no one registers, I do not go to class. Please do not show up unannounced . . . I may not be there.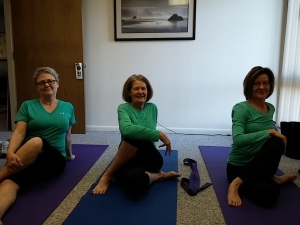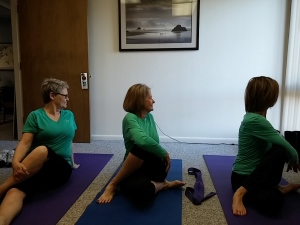 (Wanda, Gigi, and Laurie setting up for Half Lord of the Fishes asana at the Cedar Wellness Center. Photo taken by Sharon Jentzer)
Locations:
Cedar Wellness Center
12650 Lake Ridge Dr.
Suite B
Woodbridge, VA 22192
This location is very intimate, and classes are limited to 4 students.
Yoga Tuesday mornings from 9-10AM ($15/person; discount packages are available)
The Tuesday morning class disbanded recently, but the location is still aavailable in this time slot if you would like to get a class going again
Yoga Thursday evenings from 6-7PM ($15/person; discount packages are available)
Meditation Thursday evening from 7-8PM (free; donations gladly accepted)
Eze Family Health Center
11750 Business Park Dr.
Suite 103
Waldorf, MD 20601
This location is fairly intimate, and classes are limited to 6 students.
Yoga Saturday mornings from 9-10:30AM ($15/person; discount packages are available)
Yoga Saturday mornings from 11AM-12:30PM ($15/person; discount packages are available)
Coming Soon
5904 Pageland Ln
Gainesville, VA 20155
My dear friend, Kat Macuci has graciously offered to let me use her facility to teach yoga classes.
This space is a little larger than my other locations, though still intimate.
I will limit initial classes to 10 students.
Days and times are still being considered.
Prices will be the same as the other locations ($15/person; discount packages are available)
Discount Packages
You can use the pass as a gift card, for yourself, or to share with friends. Some restrictions apply. Each pass is good for up to one year. I keep a record of attendance for each pass, so you do not need to worry about losing or forgetting to bring your pass to class. I've got you covered.
5-Class Pass (5% discount)
Pay $71.25 for 5 classes (save $3.75)
10-Class Pass (10% discount)
Pay $150 for 10 classes (save $15 . . . get 1 free class)
15-Class Pass (15% discount)
Pay $191.25 for 15 classes (save $33.75). This pass must be used in a class that has at least 3 students in it, in order for me to cover my travel expenses to the class location. For example, you could split the cost among 3 friends, who show up together for 5 different class sessions.
What to bring to class
Wear:
Comfortable clothes that allow you to move and stretch without restriction. Be prepared to go barefoot, or wear non-slip yoga socks to prevent slipping. You may also find open-fingered yoga gloves handy to keep your hands warm in cold weather, and to help prevent slipping.
Equipment:
I provide yoga mats, wool blankets, blocks and straps. Some folding chairs are also available for those who cannot get down on the floor. You are welcome to bring your own equipment, if you prefer, but it is not necessary.
Children
I am not certified to teach children, and there are no childcare facilities where I teach. Some of my students have expressed a desire to keep the classes for adults only, as this is a destressing session for them, and they find children to be disruptive. I defer to my students in this matter, so I respectfully request that children under the age of 15 not attend class. Children 15 and older may attend classes if they respect the serenity of the space.